In the first part of this article, we talked about the basic AIDA funnel. If that funnel was too theoretical to you, let's look at a real-world example on an ecommerce website. We will use the same example as above; we sell nutritional products on our online website.
Basic components
Your goal is to sell your products, so you will most likely need to create a product page with a list of features and benefits, a few nice pictures, and a big "Add to cart" button. To finalize the sale, you will also need a well-designed checkout process. This is the Desire/Action part of the AIDA funnel, when the customer is ready to buy your product.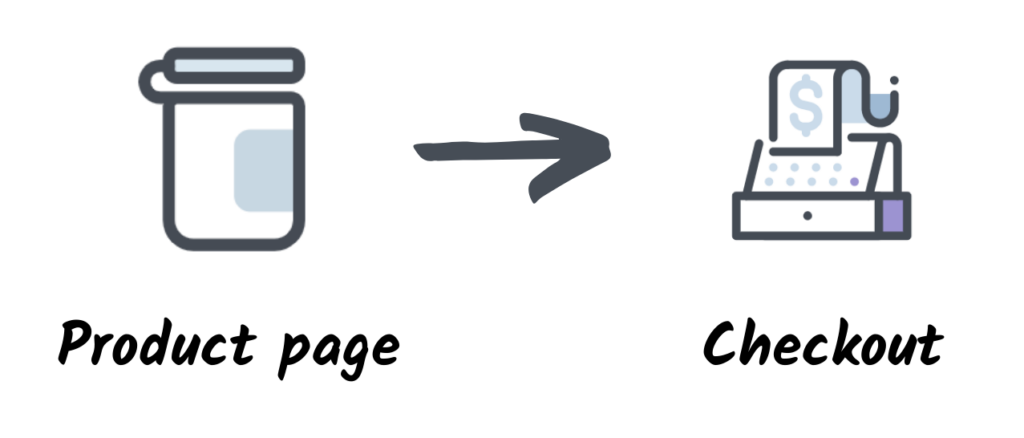 But again, unless you are Walmart or Amazon, you can't just use a storefront and a product page. Think of my analogy with dating, you would not ask someone you just met to marry you. So we're going to create a landing page to make the sale process smoother. There is a section in this book dedicated to landing pages, these are not that hard to design once you get some practice. This stands for the Interest/Desire parts of the AIDA funnel. Our own funnel on our website looks like this.

We now need to bring traffic to our landing page. Of course, our loyal customers have already bookmarked our website, but tons of people who could be interested in our product have never heard of it. Because we did our homework, we know exactly who is our target customers are, and where to find them. For our nutritional supplements, we can create Facebook ads to target people who are into sport and part of fat loss Facebook groups, and send these people directly to our landing page. We want to get people in the Interest part of the AIDA funnel.

We don't have to rely only on paid traffic. Maybe we have a blog that gives dieting advice as well as an Instagram page with a decent following. These are valuable sources of people who are already familiar with our brand.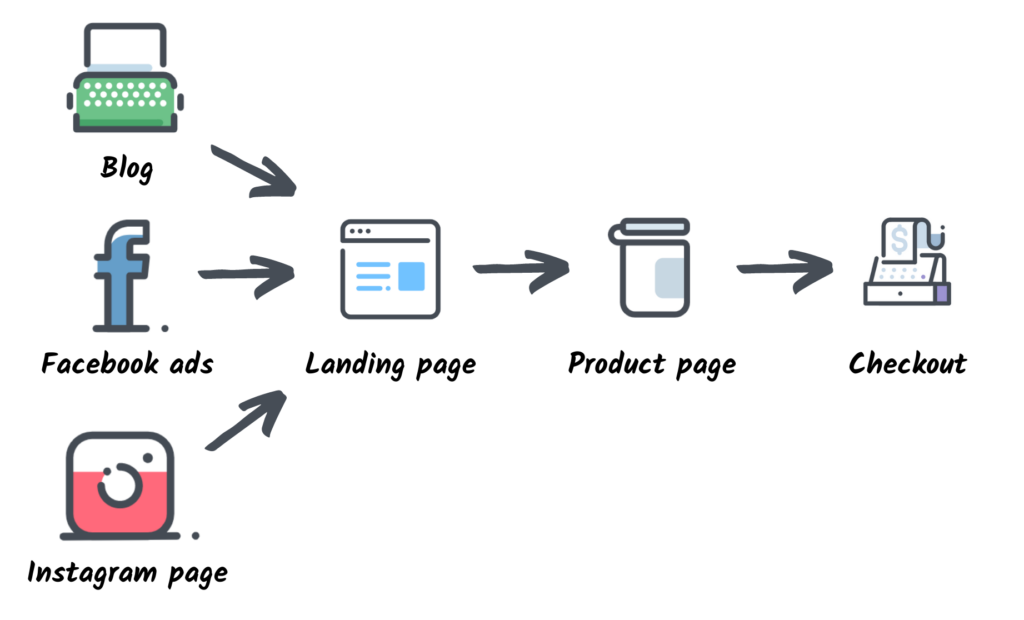 We now have a very basic funnel that taps into multiple sources of traffic. Our target moves down the funnel and gets closer to becoming a paying customer.
Generate extra value
There are a few things we can add to our funnel to generate even more value and revenue from our customers and improve our customer retention rate. We talked about it earlier in this book, email marketing isn't dead and an email list is a valuable asset for any company. We can incentivize people to subscribe to our newsletter, in exchange for a lead magnet or any other advantage like a discount or free shipping on their first order.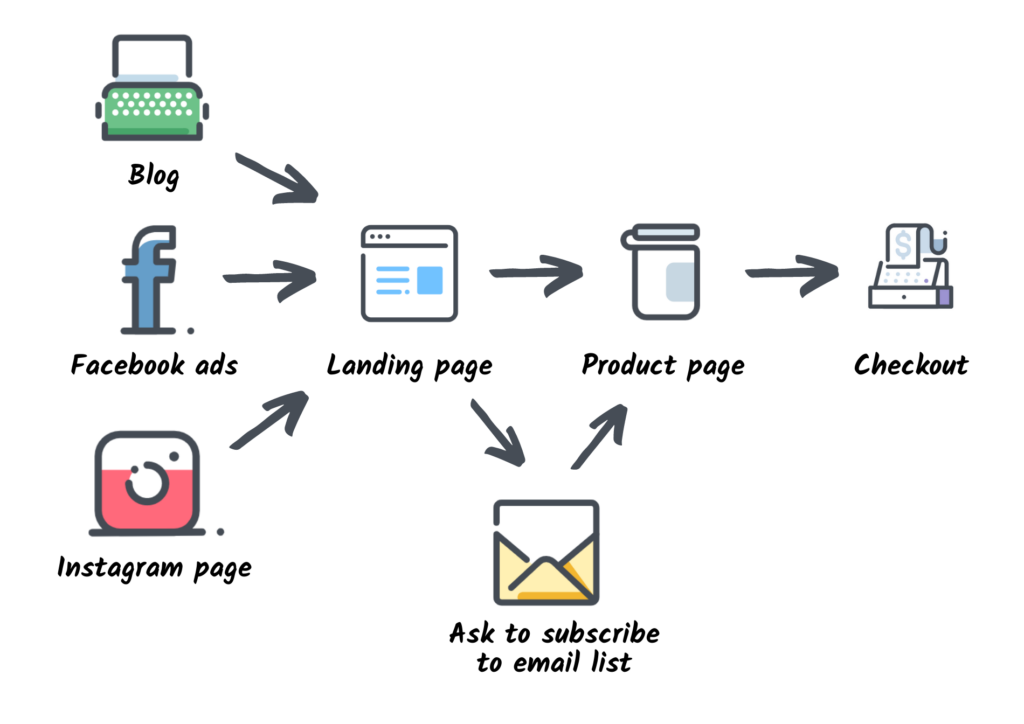 Another great way to boost your revenues is to use upselling and cross-selling techniques. Upselling is a technique used to persuade customers to buy an upgraded version of the product, or to buy accessories for a product. For example, if the customer was looking at a 30-day supply of our fat loss supplement that we sell for $30, we could show them a message that says "Upgrade to a 60-day supply for only $15", while showing them that the cost per day would be lower if they bought a 60-day supply. We are not talking about a huge upgrade here, you won't sell a Ferrari to someone looking at a Prius. But if the customer sees good value for a reasonable increase in price, this can lead to a win-win situation.
Cross-selling is another technique that encourages the purchase of a related product. For example, since dieting may decrease testosterone levels in men, we could cross-sell our fat-burning supplement with a testosterone booster.
These practices can be used directly on product pages when the customer adds items to their cart, or during the checkout process. Don't be too pushy or add tons of annoying pop-up windows, but make your offer obvious. A checkbox during the checkout process that says "Add our testosterone booster for only $30", right before the customer enters their credit card information, is easy and does the trick.
Finally, we can give the customer the option to subscribe to a product in exchange for a small discount. Many retailers that sell consumable products are doing just that: the customer automatically places an order every week or every month and gets 5-10% off. This way, the customer will never run out of an item, and that guarantees a recurring income stream for your business.
Here is what our funnel looks like once we implement some of these techniques.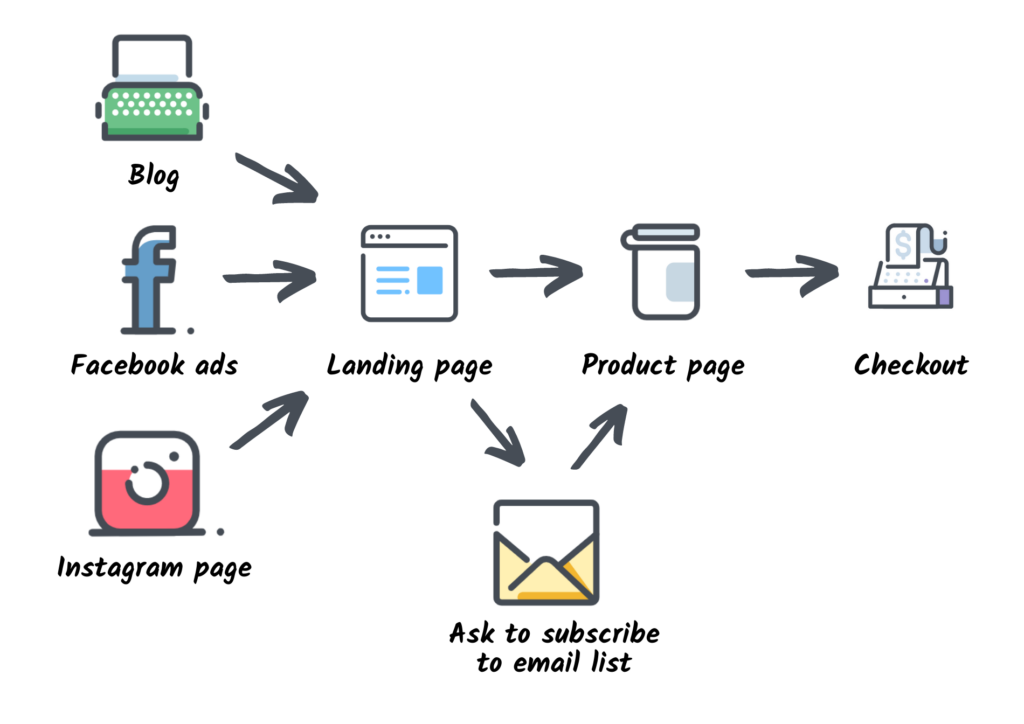 The maintenance stage
But we're not done after the checkout step! We are now in the maintenance part of the funnel; our goal is to keep that customer and get them to buy from us again in the future. Luckily, during the sale process, we gather both data and email addresses. This allows us to segment our customers and adapt our marketing message, based on the patterns we find.
For example, if we see that some customers purchase the same products at a regular interval, we can advertise our subscription program to give them a discount, while limiting the risk of them going to one of our competitors.
Looking at what products the customers are buying is also very important. People buying fat-burning supplements are probably trying to lose weight, while those buying weight-gaining powders might be trying to gain weight. While it's true that we can cater to both groups by saying, "Get the body you want!" and advertise different types of supplements, we can use more specific messages for each group, and advertise the products these people need.
How much people spend on each order is more valuable information. If you notice that some customers are ordering large quantities of products, more than what one person would need, they might be a small business. You can approach them directly to learn more about their needs and start developing a more personal relationship; these customers can generate a lot of revenue for your business.
Finally, now that your customers are at the bottom of your sales funnel, in the "Maintenance stage", one of your goals should be to move them up the value ladder. As outlined in the book DotCom Secrets by Russell Brunson, a value ladder is a series of products or services that get more and more expensive and provide an increasingly high value to your customers.
For example, if you own a gym, the first product can be a free workout. Then the next level is a basic membership. After that are weekly sessions with a personal trainer. The final step can be a whole package that includes the membership, personal trainer, nutritional plan, and health supplements.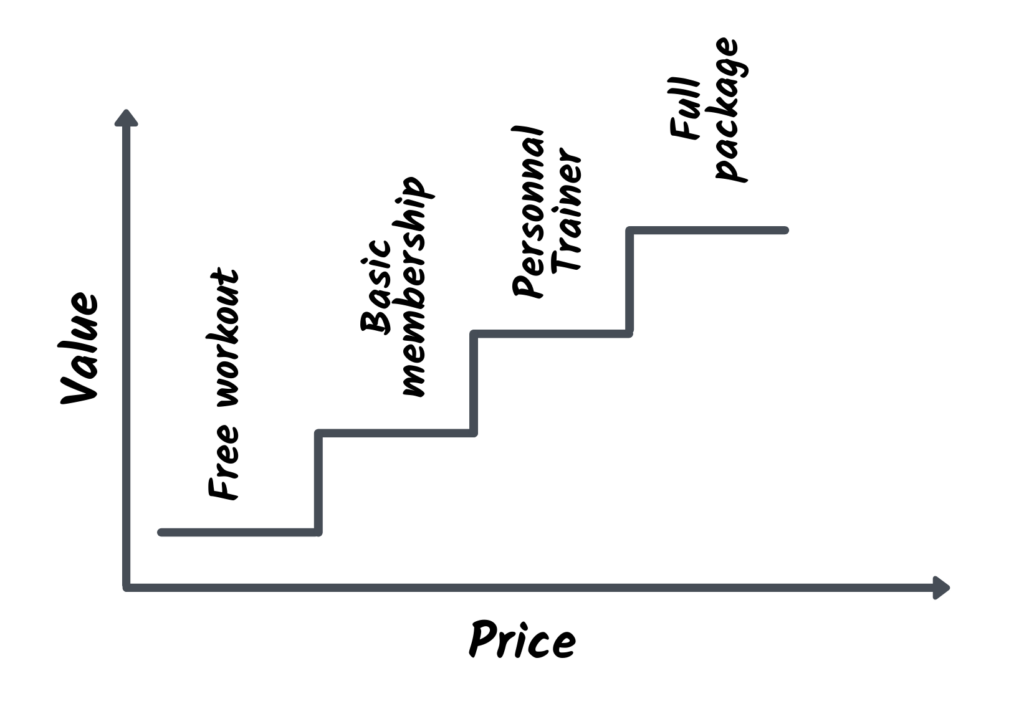 Having an effective value ladder allows you to generate more revenue per customer, by effectively selling your more expensive products or services. In the above example, very few people would buy the total fitness package without getting a basic membership first. And giving away free workouts is a good way to sell these basic memberships. You already have a relationship with these customers, so if they are satisfied with the lower part of the ladder, they probably trust you and are much more likely to move up the ladder. It works like a sales funnel, you need to adapt your message to customers depending on where they are on the ladder (people at the top will require more attention as they generate more revenue and they are considering the most premium offer).